This page will detail the experiences involved.

I will first need to name or title all the incidents... then from there I can go through and let you know if the police were called.. what was done to rectify the situation and can then go and tell you who if anyone was able to correct the injustice.

Experience#1:

Home invasion/ Robbery/Burglary: Items stolen/ Real and Personal Property:
Incident #1: ( 2003) giving keys to gerard ahler ... perhaps first known moment when an unauthorized person allegedly trespassed onto my private property (possibly used my own vehicle) and was in my home. (read specifics of incident in bog (11/09/10) possible start of problems with bank accounts since check book was left on desk/ faux painting supplies, missing and stolen sample boards/ contracts along with client lists and files left accessible ( files contained pass codes to mulit-million dollar homes/ condos including the keys on my key ring that were from 2-3 projects from multi -million dollar homes and condos. All clothing and jewelry left accessible along with address books and everything. My life was an open book. Had never before had anything stolen, robbed or taken from me or been a victim of any criminal action.

(see blog entry: )
Incident #2:

CD/ DVD( music/movies/ stolen or tampered with ) (see blog entry: )

bee tribe CD

van Morrison CD

new order had to re-buy

smiths
CD had to rebuy from Barnes and Nobel ( date:

I had to rebuy movies for children : (see blog entry: )
CARS DVD: stolen from car while babysitting at La Playa hotel

RATATOUILIA DVD : had to rebuy / stolen from car while babysitting at La Playa hotel

PETER PAN DVD : had to rebuy/stolen

Incident #3: Clothing stolen and or altered/( see blog entry: )

dresses:/( May 12th 2005) Ann Taylor casual dress altered with blue pipping in hem now too short!/ met with Gail manager from Ann Taylor who confirmed that the original dress that i purchased did not have blue piping for hem and the size that i purchased was not as short. ( see blog entry: )

Jones of new york black dress (see blog entry: )

blue linen dress that was my mother's ( missing and still l missing) (see blog entry: )

black Max Mara dress entire hem ripped out had only been worn for holidays (see blog entry: )
entire suitcase of clothing missing! including some of the clothing my mother had given me from her young adulthood days (see blog entry: )

*when Babysitting for a wedding being held at la Playa ( people's name: last name allegedly : white / he was supposed to be a baseball player from Ohio) Someone gained entrance to my home... my closet had been tampered with .. a brown and white polka dotted dress had been worn/ i had not worn the dress since the time of purchase years before(see blog entry: )
pants:/ suede tan pants were sliced appeared to be with scissors or knife in the pocket area/ it had been locked in a suitcase when not being worn. each time it was put back int suitcase in perfect condition (see blog entry: )

blouses: missing: hand tailored/ black and white blouse from trip to San Fransisco (see blog entry: )

shoes: Gucci loafers worn before i ever wore them/ (see blog entry: )

sweaters:/ (see blog entry: )

suits: brooks brother's suit bought as a navy suit with the same suit jacket that belonged to the same suit pants. It now has a suit bottom with a different label as the suit jacket ( see blog entry: )

coats: Prada black coat/ taken ( see blog entry: )

jewlery: stolen: diamond ear rings that were graduation gifts from my father/ pearl ear rings that were gifts from my father ( see blog entry: )
Louis Vuitton locks were stolen ( 3/17/09 two locks missing)/ handle of Louis Vuitton bag ripped ( see blog entry: )

Hats: REI hat ( tan with black ) bought in Colorado( see blog entry: )

personal items: white and blue baby blanket with silk edging stolen. Phrase on the actual blanket "sleep per chance to dream" /pictures of my backpacking trip with a college roommate, pictures from school in France, letters from my father who wrote to me while i was in boardign school, ( see blog entry: )
pajama bottoms almost too short when purchased as large/extra large somehow became about 2-4 inches shorter

(see blog entry: )

Incident #4: computer entire laptop stolen/files copied.../broken pin from hard drive

* police report concerning stolen laptop. / police report: #
(see blog entry: )
*cord from camera ( usb) cable stolen from Nikon digital camera ( had to try to replace it twice )
(see blog entry: )
*cord from computer monitor stolen September 2010 ( had to replace it with an extra cord Marion Gregory(my mom) had with her old monitor )
(see blog entry: )
*files from hard drive stolen from my hard drive. Called for references of tech person who was reliable and honest and good at what he did. Reference from company we had babysat and tutored. Computer tech who worked with the Sobatova family named Johnathan. When man showed up to do repairs he claimed his name was Johnathan,( i did not see photo id nor did i think to ask for confirmation to his identity) claimed he was from Ohio, took hard drive with all babysitting files and personal files from my computer and copied using file transfer box. I had called for assistance in fixing a problem with my computer.... . he gave no assistance he did not fix the problem. His company was called: ( need to locate the name of the company again)
(see blog entry: )
* Chad the tech person from byte shop had been someone i thought i could trust in working with my computer. When bringing in 3 laptops.. he took one of the hard drives and broke a pin off the hard drive rendering it unusable unless i used his company that would charge $7000.00 dollars to retrieve the information from the hard drive. Later when calling in for additional computer assistance i was told by "chad" over the phone that i was no longer welcome at the byte shop and to never call there again. I later spoke with the manager/ owner who told me that CHAD or whom ever i actually spoke to... didn't have the authority to say such things and that he would never turn away a customer or harm a customers computer... the manager /owner was very nice and very helpful!
(see blog entry: )
Incident#5: stolen or "borrowed" Files from clients both faux painting and A Tender Loving Care Service and or Etiquette School creation also files for real estate classes and teacher certification classes

*Actual manila files created as hard copies stolen/"borrowed" sometimes returned sometimes not! first files noticed missing were the faux painting files of clients and potential clients/ then babysitting files with personal information of the children of the homes and the contact information turned up missing.

(see blog entry: )

Started locking up files due to their personal nature

(see blog entry: )

Files for my business including numerous forms containing the details/content and the structure of forms /documents . written documents used for A Tender Loving Care Service/ A TLC Prep

(see blog entry: )

At one point chapters from the teacher certification course( ABCTE) went "missing"/ along with files for real estate course/ depending on what courses or projects i was working on at the time and who was breaking and entering into my home. For what purpose? i don't know exactly.... the files for the businesses are easier to understand. Gerard had this friend of his from Boston who lived in Marco island. When i met him he told me that Gerard stole businesses. He stole all the information and created the same companies under different but similar names. He showed me a brochure of a home watch company. the next victim wish i had told people and done something then (2003-2004)
(see blog entry: )

*most recent files missing are the files for this website all the files for the various laws and Florida statutes missing file containing a damaging email written in 2007 sent to my priest with vicious lies assisting in proving cyber bulling and defamation of character law suit

(see blog entry: )

Incident #6: Birthday presents

*My original Burberry umbrella bought by my mother and given to me on my birthday was stolen. I had to rebuy my own birthday present again!

(see blog entry: )

Incident #7: Food/ soap/ laundry detergent and other home items/pillows/ pillow cases towles
*pillow cases: from set my mother had given me from Bloomingdale one was on a pillow case that was taken/stolen from my bed!

(see blog entry: )

* hand soap from William Sonoma/

(see blog entry: )

* numerous occasions through out the years food had been taken/ once a half eaten meal left in my cabinetry when i had been out babysitting

(see blog entry: )

* laundry detergent/ dish washing detergent/

(see blog entry: )

*personal face soaps /creams/ and powders /perfumes: Chanel and various brands that were gifts to me on various holidays or birthdays

(see blog entry: )

*sports drinks stolen from garage Propel drinks in berry flavor

(see blog entry: )

Incident #8: items left in my home or moved from my home after someone had broken in my home and stayed while i was away for the weekend

*gold emblem from myrtle beach golfing outing left on my bed ( i neither golf nor have ever been in Myrtle Beach )

Incident #9: appliances fixtures tampered with/broken or stolen/

had to replace a white small television/

one day microwave had crack in the base after i was away babysitting later it did not work/

had to replace dishwasher

Incident#10: personal items
pictures stolen of backpacking trip in Europe/

letters from my father from boarding school/
letters from old boyfriends/journal entries stolen/ or altered


Incident #11: (garage):

*garage door opener was stolen from my purse while i was on the phone at my clubhouse.

*key fab was stolen

*supplies/tools/possible car tampering/garage door broken/

*Multiple times when I came home garage light was on.... very odd since it has an automatic timer to shut off by 30 minutes and usually If babysitting i was gone for more than 30 minutes. Garage door open when it was closed when i left. I told police and had to to start locking the garage from the inside ( see police report)

Incident #12: (lanai):

screen on lanai sliced open / over thanksgiving holiday while i was away from my home at my sisters

Incident #13: hand prints found of a child and adult on inside of glass door.

*These prints were found on the inside on my glass lanai door/ called police. Officer was called to home . Officer failed to get a print from the adult finger/hand print left on glass or failed to get a print of child 's print left on inside of my glass door. I do not have children so no hand prints of small children should have been in my home at all!

Experience#2: Bullying/Harassment/Aggravated stalking :

picture below of karen kahel while trespassing into complex before having authorization February 2008 ( picture taken on advice of police officer to prove trespassing.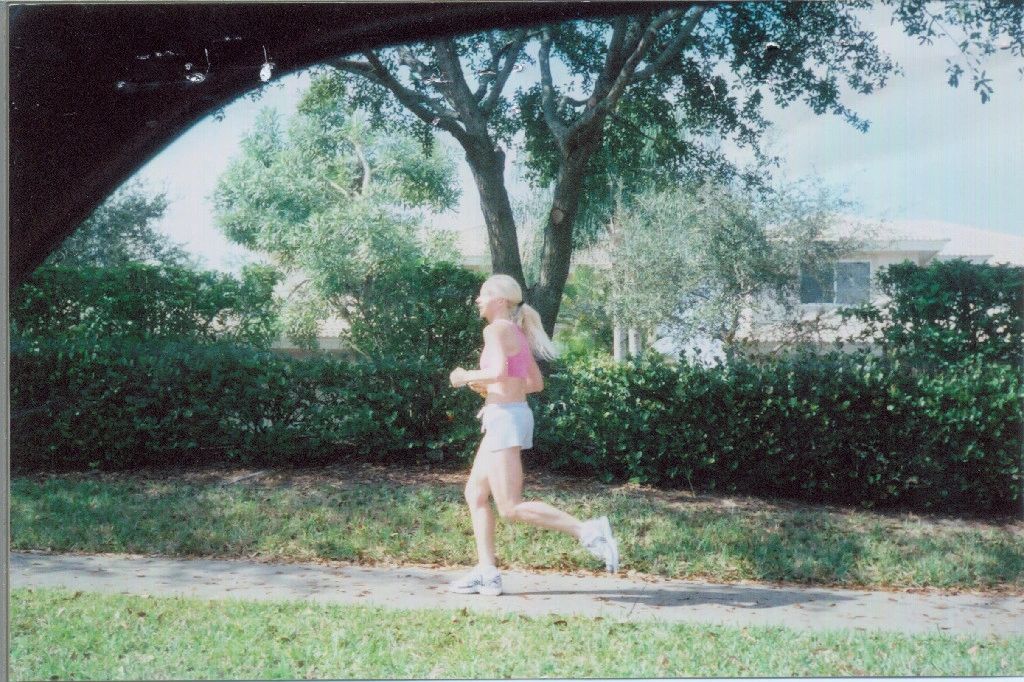 incident #1: Karen A. kahel/ also has last name of Karn Fratontari (sp?) :name she gave me to contact her at 5th 3rd bank while she was working there and i was babysitting her son.
when she was bulling me her address was : 5100 Cedar Springs Drive 201 Naples Florida 34110
telephone numbers when she bullied me: 614-323-5459 or 614-430-3717/ 614-795-1440(ohio state graduate /Carlton lakes resident /trespassing into the strand from Carlton lakes and running on strand property bullied me at guard gate. Bullied me until i cried and was shaking and ready to throw up/ jumped up and down saying "she won She won"

*numerous times when i was leaving my complex she just happened to be running into the complex as i needed to go babysitting or was required to be some where at a specific time

*One incident when she followed me into publix. Upon seeing her and being disgusted and horrified at the blatant stalking she followed me around in the store and told me not to roll my eyes at her ) I told the manager and was shaking and visibly shaken by the entire experience

*One incident when i was shopping at Waterside shops i was visiting the channel makeup counter at Saks Fifth Ave When she walked into the store i said good bye to Deloris and Gretchen and pointed her out and old them she was the girl who had bullied me and made me cry. I left that store and she proceeded to go to all the same stores ( i went into Luis vitton and burberry and Max Mara where i was getting names for x-mas cards) she followed me into the stores except Max Mara.

*One incident when i had to go into port Royal to pick up a check she followed me to find who i was sitting for. I don't know if she spread any lies or tried ruining my reputation but i do know that her presence always bothered me and she preyed on that fact.


*This past year while I was attending the commencement ceremony for the ave maria law school where Jeb Bush was speaking there was a girl who looked like Karen kahel in the left hand side of the auditorium. I didn't wait to see if it was her. Today ( nov. 15th 2010 after going over the west law accounts/ and the mail theft and mail tampering) I realized that i may have also recognized Gerard in the parking lot at Ave Maria law library... ( It would explain how there were excessive charges on my West Law account in 2007 and explain one more way of their group stealing more of my idenity and my accounts and ruining more of my life.)


Experience #3: Trespassing/ Burglary/ (prima facie evidence of intent):
*Thanksgiving: screen lanai had been sliced open. while i was away for the thanksgiving holiday!


Experience#4: Defamation of character:
*emails sent to clients
*personal contact via phone conversations or personal interaction with my friends or my clients defaming my character,

*emails sent to my parish/church and priest defaming my character

* emails letters or personal contact with businesses i have interacted with or done business with to defame my character

* bully email left at front gate of my complex for me (envelope from 5th 3rd bank )

* bully mail sent through post office not signed no return address

*

Experience#5: Business jobs/ stolen:
pelican bay: client / (babysitting job from Nov. or December 2009)fraudulent call /lose of $400.00 job / I checked on cell phone (intellius cell phone reverse check ) ... cell phone did not belong to person who was supposed to be calling for job or canceling for job. Cell phone from Conn. / not name of client/

Work related incidents: ( babysitting for people who stole the babysitting jobs)
*having babysitting calls from various hotels it would start with an original call requesting siting and a specific time then . a follow up call for an hour later/ possible babysitting for babysitter who stole my job or was working on stealing my business.
* odd calls for babysitting jobs where the job would start at 10pm until 2am / not the adults who were listed in the rooms/ not the correct children or people who called for service.
Experience #6: Motor vehicals:
incident: vandalism to my current vehicle. Scrape on side of car/drivers side and black spot on passenger side of car where paint had been rubbed off.

(see blog post: )

incident: ( October 2010)tampering with my current vehicle while i was in Publix and my car was in parking lot. I went into store for total of 30 minutes when i went into store there was a man/boy of age 20's -30 year old who was taking tools out of his yellow and black tool box inside his silver jeep Cherokee . When i came out of store and started to drive home my car made a very unusual and loud sound. I asked a friend from the store to come out and witness the sound as it had not been there prior to entering the store I actually looked the man/boy right in the face and didn't think anything about him taking tools out of his vehicle. He had average brown hair/ was Caucasian/ and no major descriptive features/ he was fairly small in height and weight and i didn't think to get a license plate number.

(see blog post: )

Experience #7: Banking/fraud:
Bank of America: 50 checks ordered without my consent and did not show up at my mail box/ checks written off the 50 checks #1001/#1002/#1003/#1004 #1005

(see blog November 23rd 2010 )
Bank incident with jewelry and paperwork and personal items: safe deposit box and storage unit
(see blog November 23rd 2010)

florida bank:

( on credit report there was a charge of over a hundred dollars after i closed the safe deposit box, money market account and checking accounts/ I know i closed and made sure to close everything in good standing I still need to contact the bank and see what the charges are
(see blog post: )

Experience#8: Video voyeurism:

*went to a university of Florida football game was by the law school waiting for my sister when a man( told me he was a law student from FSU)/ came up to me and told me he had watched me while i was walking around in my bathing suit in my apartment. I totally freaked out! especially after what Gerard Ahler had told me:

*Gerard had told me that after meeting him i would have no privacy. that the only place i would have any privacy would be my bathroom

(see blog post: )

Experience #9: Civil rights:

Experiencce #10: Computer related crimes: hacking/emails changed or deleted/loss of correspondence for etiquette school including school discounts for emily post classes /babysitting business and


Experience #11: Phone: FRAUD

Sprint cell phone of (239-287-2294)/
*fraudulent bill of excessive amount and having texting charges when i did not text!
(see blog entry: )

changed to Metro PCS phone of (239-287-2294)
*strange about metro PCS account from the beginning. Even thought it was supposed to be a local account i had to always dial a- 1- then-239- area code for all Naples numbers.

(see blog entry: )

changed to virgin Mobil of (239-287-2294) see post fo email sent to virgin mobil
email sent to Virgin Mobil company describing the spoofing of my phone number numerous calls to people who were supposed to be from virgin Mobil company detailing all the issues and problems and the fraud and criminal behavior on the phone!
(see blog entry: )

*calls to a 11239-287-2294 were made up to 12 or 13 times a day supposedly from my own phone at times when i didn't even have the phone turned on!
(see blog entry: )

11/12/10: phone cut off at midnight during horrible calls when calling my mother's cell phone that was supposed to be at La Playa hotel. Message stated that phone needed a top up . I put in top up account already entered into my actual phone and it said that the top up card used had been used on another phone/ another account. Means: either phone in my possession was not my 239-287-2294 telephone or something is messed up with the phone accounts again

( see blog entry November 12th 2010)

Experience #12: Idenity theft:

Incident:contacted economic crime unit (date: emailed concerning phone call someone calling to tell me they were responding a call i had made concerning an inquiry i had made to refinance my mortgage. I had never contacted that company and they used an email that i never heard of. Also told the crimes unit about Ean Stein and after meeting him i had 48 hits on my credit report . He had asked to borrow $2,000 and never repaid the amount to me. His office that was supposed to be a mortgage company had phones turned off and last visit to his office most of furniture and phones and employees gone.

Incident: this may be just a weird coincidence but since people have told me some really bizarre things these years i actually have to wonder and worry a bit about identity theft for a few reasons. I used to travel to palm beach to see my sisters often almost every weekend if I could get a way. One June I went to go and get my hair cut at a salon that was just down the street from where my sister has a condo. When i walked in the the salon and introduced myself as the person who was a sister of some of this gentleman's clients, he proceeded to ask me if i wanted to cut my hair and color my hair the same as i had done it the last time i was in his salon. I told him i had never been in the salon and he persisted that yes i had been in and he had done my hair in April! he questioned me again about who my sisters were and said yes he was absolutely positive he had cut and colored my hair.

(see blog entry: )


Experience #13: Mail theft:

Incident: westlaw id cards two stolen from mail I had to reissue 3 total west law id cards ( see blog entry for mail theft and mail tampering November 15th 2010 )

Incident: book bought on family law (item#17464515 Blacks family Law terms) from mail/ had to order book again (see blog entry for mail theft and mail tampering November 15th 2010)

Incident: request for additional birth certificate mailed to my address for reissue of USA passport ( 2006) /letter had been tampered with ( opened and resealed with receipt missing ) ( see blog entry: )

Incident: Bully mail sent with Cleveland Ohio postmark and Jesus stickers /no return address or signature or personal note just emotional distressing articles inside would correspond to times of bully emails and bully phone calls. Very damaging and hurtful (see blog entry: )

Incident: ordered a new laptop and monitor and printer from Dell in 2005. Multiple problems with receiving orders / tampering of packages . ( see blog entry: )

Incident: renewal of credit card did not show up in my mail box ( see blog post ( November 23rd 2010 concerning note on speaking with credit card personnel on phone)


Experience #14: Damages.
incident : court case April/may 2005: I worked on a penthouse condo in the Dunes for a great client who i had faux painted most of her last house . I had keys to the penthouse and worked odd hours. Like most clients who were not in Naples at the time i was creating my work . After the project was completed someone had gotten in and unwrapped the plastic on a new sofa and spilled oil on a new carpet. I did not do these things and my suspicion was that it was the same people who somehow had access to my keys or who were able to break into my home or steal my files. I had to go to court to get final payment for the project and teh case was never solved as to who was responsible for the damages.
I know at other times when the condos/homes were supposed to be empty there were at times people who had been staying there. Once when i was in a complex by Marco island this occurred and once when I was working on a condo at twin dolphins there was evidence that someone was staying there when it was supposed to be empty My suspicions were that my information from files on clients may have been compromised with pass codes and keys and other vital information. Currently i lock EVERYTHING ! but even that doesn't seem to stop a true criminal who has the intent to commit a crime and no one who is able to stop them

(see blog entry: )

Expereince #15: Mortage fraud:

incident #1: Ean Stein telephone #561-929-8188 and 727-287-6339

*left message 01/09/07 called and left message @6:00pm voice mail has his father and Ean on voice mail *letter written by Marion Gregory to Ean Stein to regain the $2000.00 2010) *email written to Ean stein trying to contact when pones out of order and email not going through

( see blog entry november 23rd 2010)
Experience #16 : Lies and combating damaging untruths
lie #1: That i dated an electrician from Mexico ( Gerard accused me of this don't know where the lie came from but he was very angry about it )
Lie#2: Carla a roommate i had from Brazil told me my family thought i was dead and i should be grateful for whatever family i get ( told this on Christmas eve when i didn't get to see my sisters for Christmas 2004 nor did i get to speak with them for most holidays /birthdays since then)
Lie#4: another roommate when leaving tried taking a mug that was given to me by a friend from Saudi / he was told he could take items from my home as souvenirs
Lie #5: I never had any pregnancies or children with Gerard Ahler
Lie #6: I have never had an eating disorder
Lie #7: I have never had a drinking or alcohol problem /dependency or issue with alcohol
Lie #8: I have never had a drug problem/dependence or issue with drugs
Lie #9: I have never had any type of mental problem deficiency or problem including bipolar/schizophrenic(sp?)/manic depressive/ depressed or any mental problems
Lie #10: I have never been in jail /nor do i lie, cheat, or steal!
(see blog entry: )

Experience #17: FPL

emails/fraud for bill dated: November 2010 emails with a change of billing cost, emails that when i put in a request to respond to the obviously unrealistic amount were sent without any information concerning fixing or rectifying the situation or even checking on the situation. Started when i was working for Swiss family in august 2010. for bill in September/November ( see blog entry for Tuesday December 07th 2010 for details of FPL problem ) air conditioning stopped working in august and i stopped using air conditioning in august actually since august 2010. was issued an email bill that changed amounts and keep increasing until the bill was $300.00 when normal bill may run 115.00 with air but as low as $50-70 dollars without any air. Emails of response to fix problem also came back to me blank. emails didn't look the same as tehe usual bills i had received before from my e-billing accounts. When i went into FPL account, an email address i had never used or set up was used for my email address . ( see blog entry December 07th 2010)

xperience#16: 3-4 or more horrible experience i am not ready to write about yet